---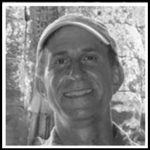 Eliot Jacobson (managing editor) is a retired professor of mathematics living in Santa Barbara, CA. He spends his time hiking with his dog Rosie, docenting elephants at the Zoo, playing Irish music, performing in theater and opera, and reading and writing poetry. Eliot has published three books and more than 300 articles on gambling. Eliot is thankful that reading poetry is so much easier than writing it.  Not every food critic can cook. Eliot is very concerned that the instability of the Higgs field may lead to the collapse of the universe.
---
When Maria Mazzenga (editor) isn't reading or writing poetry, she is probably at work teaching history. When she's not doing either of these, she's probably looking at art somewhere in downtown Washington, D.C. Maria is co-author with Roger Doyle of three art/poetry books, "Wrecks," "Poems of Yellow and Gray," and "The Lot of Sisyphus," and has poetry published in multiple online journals.
---
Wren Tuatha's (editor) poetry has appeared or is upcoming in The Cafe Review, Canary, Peacock Journal, Poetry Pacific, Coachella Review, Arsenic Lobster, Baltimore Review, Pirene's Fountain, Loch Raven Review, Clover, Lavender Review and Bangalore Review. She's an editor at Califragile and Jump. Wren and her partner, author/activist C.T. Lawrence Butler, herd skeptical goats on a mountain in California.
---